I have been interested in rainwater collection for many years. Due to poor ground water, lack of municipal supply, and environmental considerations, I began to look into collection systems. My rainwater system supplies all my indoor water needs. Leaves, seeds and sticks were initially a huge problem for my system. I first tried flush type filters, and other types of screen filter roof washers. I found them to be ineffective at best and high maintenance at worst. WISY filters have solved these issues and need to be cleaned only once or twice per year. These patented products benefit greatly from 20+ years of experience in the field and worldwide installations from rain barrels to large factory complexes.
– Joe Wheeler – CEO of Rainfilters of Texas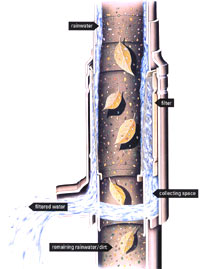 ---
Rainfilters of Texas is the Texas Factory Authorized Distributor for WISY products. For other states click here. This site will provide information to help you develop your rainwater collection system as well as providing the opportunity to specify and purchase WISY, AG products.
WISY, AG is a worldwide leading manufacturer of rainwater collection filters and related equipment. WISY produces rain harvesting equipment covering all applications from simple rain barrels up to large scale commercial applications.
Rainwater filters developed over the last 20+ years, with over 120,000 in use worldwide. Water is a precious resource.
Each system is unique, we provide the expertise and knowledge to assist you Contact us at (512) 257-7986, email us at solutions@rainfilters.com or complete our short form and we will contact you.